UTSA newsletters
UTSA magazines
UTSA Roadrunners women's basketball team assists Habitat for Humanity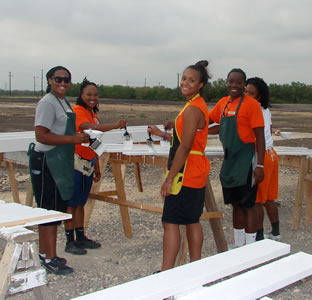 Share this Story
(Sept. 19, 2011) -- The UTSA women's basketball team recorded an assist of a different kind on Saturday, when they spent the day constructing a home with Habitat for Humanity.
The Roadrunners put in a full day's work in southwest San Antonio – painting, cutting and installing siding. The team had a chance to meet and work on the project with the home's future owners.
"This was a great experience for our team," said head coach Rae Rippetoe-Blair. "A lot of our girls have never done something like this before and it became an amazing team-building experience. It made everyone feel good to help out such a worthy cause, and we are happy to continue our support of Habitat for Humanity."
Habitat for Humanity is a nonprofit organization that has built more than 350,000 homes, providing shelter for more than 1.75 million people in nearly 90 countries since its founding in 1976.