-- This archived story was published in March 2004. --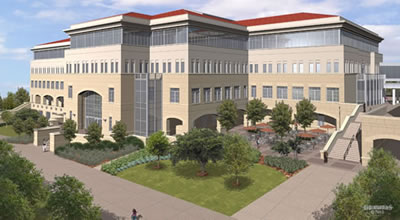 Officials hail 'groundbreaking' development at UTSA
(May 28, 2003)--More than 300 UTSA community members, friends and officials attended groundbreaking ceremonies today at the 1604 Campus for the Biotechnology, Sciences and Engineering Building, which when completed will be one of the largest classroom facilities among the UT System's nine academic institutions.
UTSA President Ricardo Romo and UTSA Development Board Chairman Tom Frost were joined by UT System Chancellor Mark Yudof and other officials at the ceremony marking the beginning of the two-year construction project for the $83.7 million facility.
In the upper photo, Romo and other officials break ground for the new facility. The lower photo is an artist's rendering of the building.
Romo thanked Yudof and other community and state leaders for their support in helping to develop UTSA into a first-choice university. Romo said the 227,000-square-foot facility, designed by FKP Architects Inc., marks another milestone in UTSA's development into a premier research university.
"The new building will play a significant role in moving UTSA into the top-tier of research institutions by enhancing the university's triple mission of excellence in teaching, research and public service," Romo said.
Yudof said UTSA has the vision and great potential to join several other Texas higher education institutions in top-tier research status.
The Texas Legislature approved $23 million in funding and the UT System Board of Regents allocated $54 million for the project. The remaining $6.75 million was raised through gifts and grants, including a $1 million contribution from the City of San Antonio and a $500,000 donation from SBC Communications.
The five-story atrium building is designed to foster interdisciplinary research and collaboration among various science and engineering programs. The lower level will house engineering research laboratories and departmental faculty offices. The second floor will house teaching laboratories, a multi-purpose room and office suites. Biology labs and a vivarium housing small animals will occupy the third floor, and chemistry labs will be on the fourth floor.
"The new Biotechnology, Sciences and Engineering Building will permit the hiring of new faculty who may tackle some of the most daunting problems of modern science," said William Scouten, dean of the UTSA College of Sciences. "Of equal importance, these new faculty will educate a new generation of students, a new generation of scientists and an increasingly diverse citizenry."
The building design, which includes arched openings, modular windows, arcades and a galleria atrium, is compatible with the architectural style and character of other planned campus facilities. The facility is designed to accommodate future construction as well as the development of an upper level of paseos and courtyards surrounded by buildings that will form a science and engineering building complex.
"The new and existing engineering faculty housed in the facility will be able to provide infrastructure for various research projects -- from ways to help the human body heal itself through tissue engineering to bioimaging that will help diagnose cancerous tissues and high-frequency treatments to eliminate them," said Zorica Pantic-Tanner, dean of the UTSA College of Engineering. "We will hire faculty to work on environmental issues such as air quality and mold issues, alternative energy sources, and designing new materials for commercial and military applications."
J.T. Vaughn Construction of San Antonio is the contractor for the project, which is expected to open in spring 2005.
--------------------------------------
--------------------------------------
© The University of Texas at San Antonio, 2003